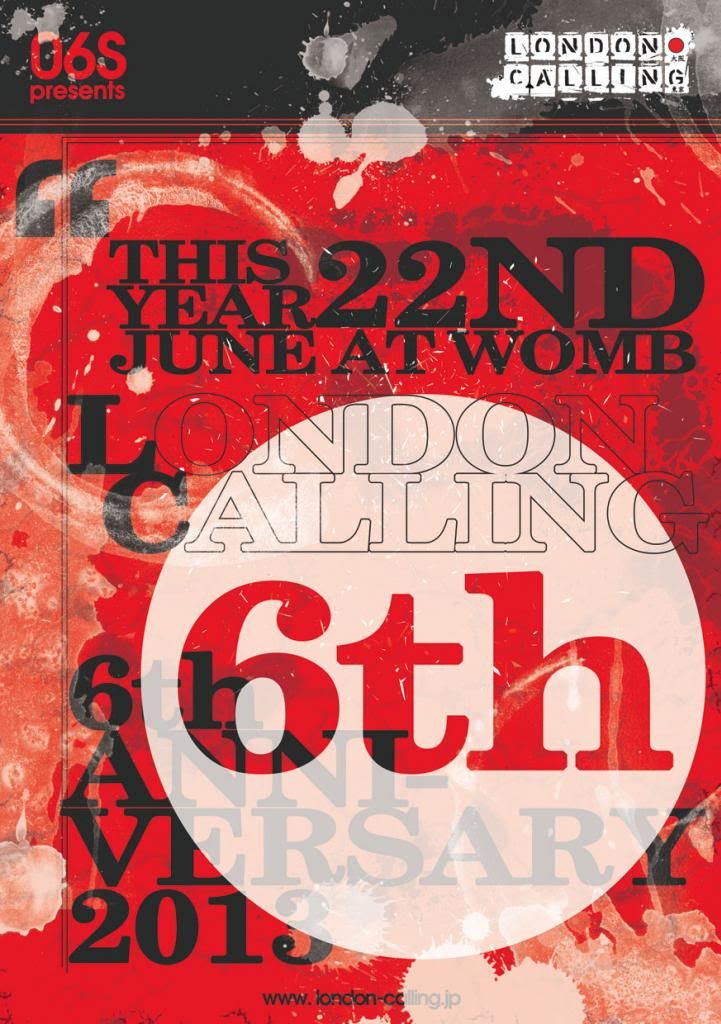 ■What
LONDON CALLING'S 6 YEAR ANNIVERSARY
■When
2013. 6/22. Sat 23:00-5:00
■Where




Womb


Add:東京都渋谷区円山町2-16 1F
TEL: 03-5459-0039
http://www.womb.co.jp/

■Charge
Door:
3,000yen
With Flyer:
2,500yen
Member:
2,000yen
LONDON CALLING is SIX years old on June 22nd, 2013!
It's an accomplishment for any event to survive one year in the ever changing nightlife scene of Tokyo, but the fact that London Calling is celebrating its six year anniversary is a testament to the fun times that have been had over the years with good friends, great music and smiles all around.
So this year, come join us at WOMB as London Calling takes control of their FIRST
and THIRD FLOOR as well as the VIP ROOM of DJ AKI's 06S PARTY at WOMB!!!
We are extremely honored and thrilled to collaborate with DJ AKI and his event 06S
on this special occasion.
As always, London Calling will provide THREE rooms of incredible music from
some of the hottest local DJs that Tokyo has to offer.
Beginning from the moment you enter Womb, you will be greeted with Electro
and Heavy Bass emanating from the First Floor which
is the backbone of the London Calling experience.
Then, as you make your way up the spiral staircase to the Third Floor
you will be pulled in by the hard hitting sounds of Techno.
AND...finally, when you reach the top to the VIP Room you will be enticed
by the pulsating sounds of non-stop DISCO that will include our special guest
RAYKO from Espana!
But wait! The Second Floor is not to be missed because DJ AKI's 06S Party
will commandeer that entire area with Drum'n Bass! Yes,
that makes FOUR ROOMS of incredible music which all add up to a true UK underground experience done with the style and energy that only Tokyo can provide!
So, come and join us with all your friends as we celebrate our 6 YEAR ANNIVERSARY at WOMB with FOUR rooms of amazing DJs!
■1st FLOOR – Electro/Heavy Bass
Beat Respect
Break Beat Rockers
Mark Birtles
I AM JESSE
Boy Gets Hurt
Nils McFly
■2nd FLOOR – Drum'n Bass
DJ Aki
Makoto
Yuuki MC
MC Cardz
Ymasa
Ryuma
VJ: NUMAN, CHA2, EYE-LINK
■3rd FLOOR – Techno
Shotaro Maeda
Alex Einz
Aron T
Bob Rogue
Nic Liu
VIP ROOM – DISCO
Rayko (Eskimo, Is It Balearic? and Nang)
Miles Maeda
Mike Burns
Jesus Salinas
dirty munoz
VJ – David Roy
Video – Chalice Leandra Davis
Photo – Jimmy Chevron